Geplaatst op 02 januari 2017
On Thursday, December 8, the final of the Connekt Affiliation program took place, a program that allows Connekt to create links between start-ups and the members of the network. Eight start-ups had been carefully selected to introduce themselves during an 80-second pitch, before entering into discussion with members in break-out sessions. Arjan Griffioen's start-up MYPO was crowned the overall winner for 2016. The jury, headed by Mark Frequin,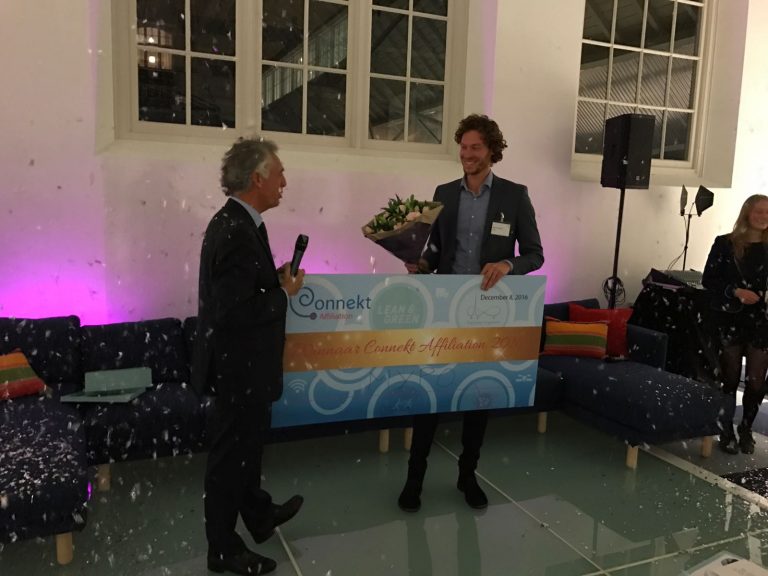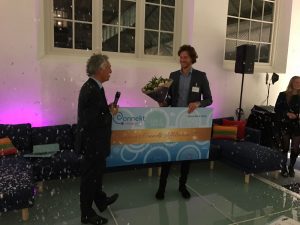 not only regarded his smart letterbox concept as innovative, but also believed it could help to shape the future development of logistical parcel flows. It is an excellent concept to put to the test in pilots and could potentially have a big impact. According to the chairman of the jury, the Connekt network could also play an important role in helping to speed up this process. This was underlined by the fact that parties including the Top Sector Logistics expressed an interest in setting up a pilot together with the City of Amsterdam.
As the overall winner, MYPO has not only been awarded a two-year membership of the network, but will also be given the opportunity to make two podium contributions during Connekt events in 2017 and participate in a Connekt study trip.
Arjan Griffioen, founder of MYPO:  "We are thrilled to have won Connekt Affiliation 2016. The fact that the jury picked out our smart letterbox as the best idea from those put forward by nine different start-ups really gives us confidence. More and more people are ordering products online, but are not at home to receive their parcels. That not only creates a problem for the recipient, but for their town or city too. All these delivery vans are making unnecessary trips down your street and contributing to traffic congestion and air pollution. With MYPO, parcels can be delivered 24/7, including at night, when cities are much less busy and deliveries can be made much more efficiently. The jury could see the potential in this concept!"
"For a start-up, finding the right partners is important if you want to get your product to market. We are delighted that the City of Amsterdam, the Top Sector Logistics and Connekt have expressed an interest in setting up a pilot with MYPO. This idea was put forward in our break-out session and the first meeting has already been planned. By conducting various pilots, we will be able to validate our product and convince investors of our concept."
In addition to the overall winner, each of the start-ups had the chance to win a two-year Connekt Affiliation Membership. The finalists were AVY, Mobility Sensing, Sky-Echo, Delft Hyperloop, We4Sea, Solar Application Lab and Swapfiets. After they had all given a brief, 80-second pitch, three break-out sessions were held, giving members an opportunity to find out more about these start-ups. Members were asked to express a preference for one of the start-ups during these sessions. They responded to this request in large numbers, with one or more members being allocated to each of the start-ups. All eight start-ups will therefore be able to refer to themselves as a Connekt Affiliate over the next two years.
The start-ups and their coaches are:
MYPO with the Top Sector Logistics and RMC as coaches
AVY with the Directorate-General for Public Works and Water Management, RDW and TNO as coaches
Mobility Sensing with Advin and Berenschot as coaches
Delft Hyperloop with Dynniq as a coach
We4Sea with ECT as a coach
Solar Application Lab with the Dutch Cycling Embassy and Intraffic as coaches
Swapfiets with ANWB, Railforum and Connekt as coaches
SkyEcho with KPN as a coach
Over the coming months Connekt will be working together with the coaches to help these start-ups move forward. Keep an eye on the Connekt website for interviews with the start-ups and their coaches. Connekt will be organizing another edition of the Affiliation program next year. If you are a start-up or know of one, get in touch with the Connekt Affiliation team.